SOUTH BEACH AND ART DECO TOURS

Miami Vice, CSI Miami and Burn Notice all became hit television shows, and around the same time a photographer ventured onto the top of one of Ocean Drive's Art Deco hotels for a Calvin Klein "Obsession" photo shoot. These all helped renew interest in South Beach and it has become the destination of choice for fashion shoots, tv and films.

Sharon Stone, Sylvester Stallone, Wesley Snipes, Marisa Tomei, Angelica Houston, Arnold Schwarzenegger, James Woods, Jamie Lee Curtis, Whitney Houston, Kevin Costner and Sean Connery have all appeared in films shot in Miami in recent years. Fashion and commercial photo shoots are commonplace throughout South Beach.

During the day, models, vintage cars, Harleys, and rollerbladers of all ages parade past tourists who are relaxing and people watching from one of Ocean Drive's many outdoor cafes. The new clubs sizzzzzzle!
SOUTH BEACH NIGHT TOUR
South Beach Walk 'n Ride Tour by Night: From $85 per person
5 PM Departure – Four hours, including wait time. Additional time – call for rates.

Gratuity not included for the tour guide.
ART DECO WALKING TOUR – Miami Beach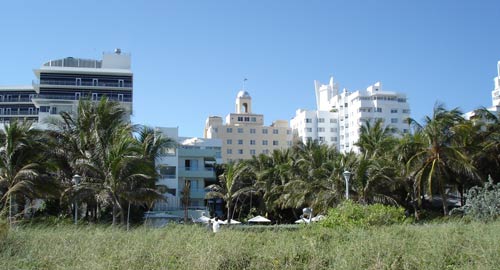 On Lincoln Road and Ocean Drive in South Beach lies the largest and most fabulous collection of art deco architecture in the world. Art Deco evolved out of a stunning archeological find in Egypt – the discovery of the tomb of King Tutankhamen. Soon, a fascination for Ancient Egypt found expression in clothing, jewelry, furniture, graphic design and – of course – architecture. The designs were developed by six Parisian architects in the 1920's. They utilizied the forms and angled shapes of ancient Egyptian motifs and buildings with the natural elements of the land and sea of South Florida.

Hear the stories of a world once ruled by the rich and famous as well as the mob. Learn about the real secrets of Art Deco and its Miami Beach revival in the 1970's.

Delight in the delicacies of Ocean Drive's famous restaurants with its grand atmosphere. People-watch for celebrities.

Participating in any tour represents an agreement between the passenger and Travel Trackers, Inc., the supplier, who enlists the services of independent tour guides and transportation companies. Transportation companies hold their own insurance policies, and understood to service their vehicles regularly. Attractions are visited on a regular basis and hold their insurance policies and operation agreements. Travel Trackers. Inc. and its suppliers are not liable or responsible for any negligent or willful act or failure to act of any tour guide, tourist attraction, independent contractor, or third party. Travel Trackers Inc. is not liable or responsible for any injury, loss, death, inconvenience, delay or damage to any person or property in connection with any goods or tourist event or resulting from, but not limited to, acts of God or major force, hurricanes, illness, disease, acts of war or civil unrest, insurrection, or criminal or terrorist activities of any kind. Travel Trackers Inc. has the right to change the itinerary according to circumstances beyond their control; weather, traffic conditions, etc. Travel Trackers Inc. has the right to refuse boarding of any atour due to the passenger causing a disturbance to the other participants